ЭНЕРГЕТИЧЕСКИЕ ПАРАМЕТРЫ АКУСТИЧЕСКОЙ ЭМИССИИ ПРИ ИЗНОСЕ КОМПОЗИЦИОННОГО ИНСТРУМЕНТА С НЕУПРАВЛЯЕМОЙ ГЛУБИНОЙ РЕЗАНИЯ
Ключові слова:
акустическая эмиссия, композиционный материал, энергия, механическая обработка, износ, статистические характеристики
Анотація
Проведено моделирование энергии акустического излучения при износе инструмента из композиционного материала для случая механической обработки композиционного материала с неуправляемой глубиной резания. Показано, что возрастание износа инструмента сопровождается уменьшением энергетических параметров акустического излучения. Определены статистические энергетические параметры сигналов акустической эмиссии при возрастании износа инструмента. Показано, что наиболее чувствительным энергетическим параметром акустического излучения является дисперсия среднего уровня энергии сигналов акустической эмиссии.
Посилання
Application of soft computing techniques in machining performance prediction and optimization: a literature review / M. Chandrasekaran, M. Muralidhar, C. Murali Krishna, U. S. Dixit
// International Journal of Advanced Manufacturing Technology. – 2010. – Vol. 46. – Рр. 445–464.
Effect of the drilling process on the compression behavior of glass/epoxy laminates / N. Z. Karimi, H. Heidary, G. Minak, M. Ahmadi // Composite Structures. – 2013. – Vol. 98. – Рр. 59–68.
Siddhpura A. A review of flank wear prediction methods for tool condition monitoring in a turning process / A. Siddhpura, R. Paurobally // International Journal of Advanced Manufacturing
Technology. – 2013. – Vol. 65, No. 1. – Pр. 371–393.
Application of digital image processing in tool condition monitoring: A review / S. Dutta, S. K. Pal, S. Mukhopadhyay, R. Sen // Journal of Manufacturing Science and Technology. – 2013. –
Vol. 6. – Pр. 212–232.
Teti R. Advanced IT Methods of Signal Processing and Decision Making for Zero Defect Manufacturing in Machining / R. Teti // Procedia CIRP. – 2015. – Vol. 28. – Рр. 3–15.
Influence of cutting parameters and tool wear on acoustic emission signal in high-speed turning of Ti-6Al-4V Alloy / D. A. Fadare, W. F. Sales, J. Bonney, E. O. Ezugwu // Journal of Emerging
Trends in Engineering and Applied Sciences. – 2012. – Vol. 3, No. 3. – Pр. 547–555.
Fractal analysis of cutting force and acoustic emission signals during CFRP machining / X. Rimpaulta, J. F. Chatelainb, J. E. Klemberg-Sapiehac, M. Balazinski // Procedia CIRP. – 2016. –
Vol. 46. – Рр. 143–146.
Tool condition monitoring using multiple sensors approach in the microendmilling of aluminium alloy (AA1100) / M. Prakash, M. Kanthababu, S. Gowri, R. Balasubramaniam, J. R. Jegaraj // 5th
International & 26th All India Manufacturing Technology, Design and Research Conference (AIMTDR 2014) (12–14 December, 2014, IIT Guwahati, Assam, India). – Pp. 394-1–394-6.
Development of Condition Monitoring System for Micro Milling of PZT Deposited Si Wafer / L. F. Chang, M. C. Lu, K. H. Chen, C. C. Wu // 9th international workshop on microfactories
(IWMF2014, October 5-8, 2014, Honolulu, USA). – 2014. – Pp. 139–145.
Giriraj B. Prediction of progressive tool wear using acoustic emission technique and artificial neural network / B. Giriraj // Journal of Civil Engineering Science. – 2012. – Vol. 1, No. 1-2. – Pp. 43–46.
Statistical Analysis of Acoustic Emission Signals Generated During Turning of a Metal Matrix Composite / C. K. Mukhopadhyay, T. Jayakumar, B. Raj, S. Venugopal // J. of the Braz. Soc. of Mech.
Sci. and Eng. – 2012. – Vol. 34, No. 2. – Pp. 145–154.
Delamination wear of nano-diamond coated cutting tools in composite machining / F. Qin, J. Hu, Y. K. Chou, R.G. Thompson // Wear. – 2009. – Vol. 267. – Pp. 991–995.
Филоненко С. Ф. Влияние износа режущего инструмента при контролируемой глубине резания на акустическую эмиссию / С. Ф. Филоненко // Восточно-европейский журнал передовых технологий. – 2015. – № 6/9 (78). – C. 47–50.
Filonenko S. F. Acoustic energy at controlled cutting depth of composite material / S. F. Filonenko // Electronics and Control Systems. – 2016. – No. 3 (49). – Pp. 93–99.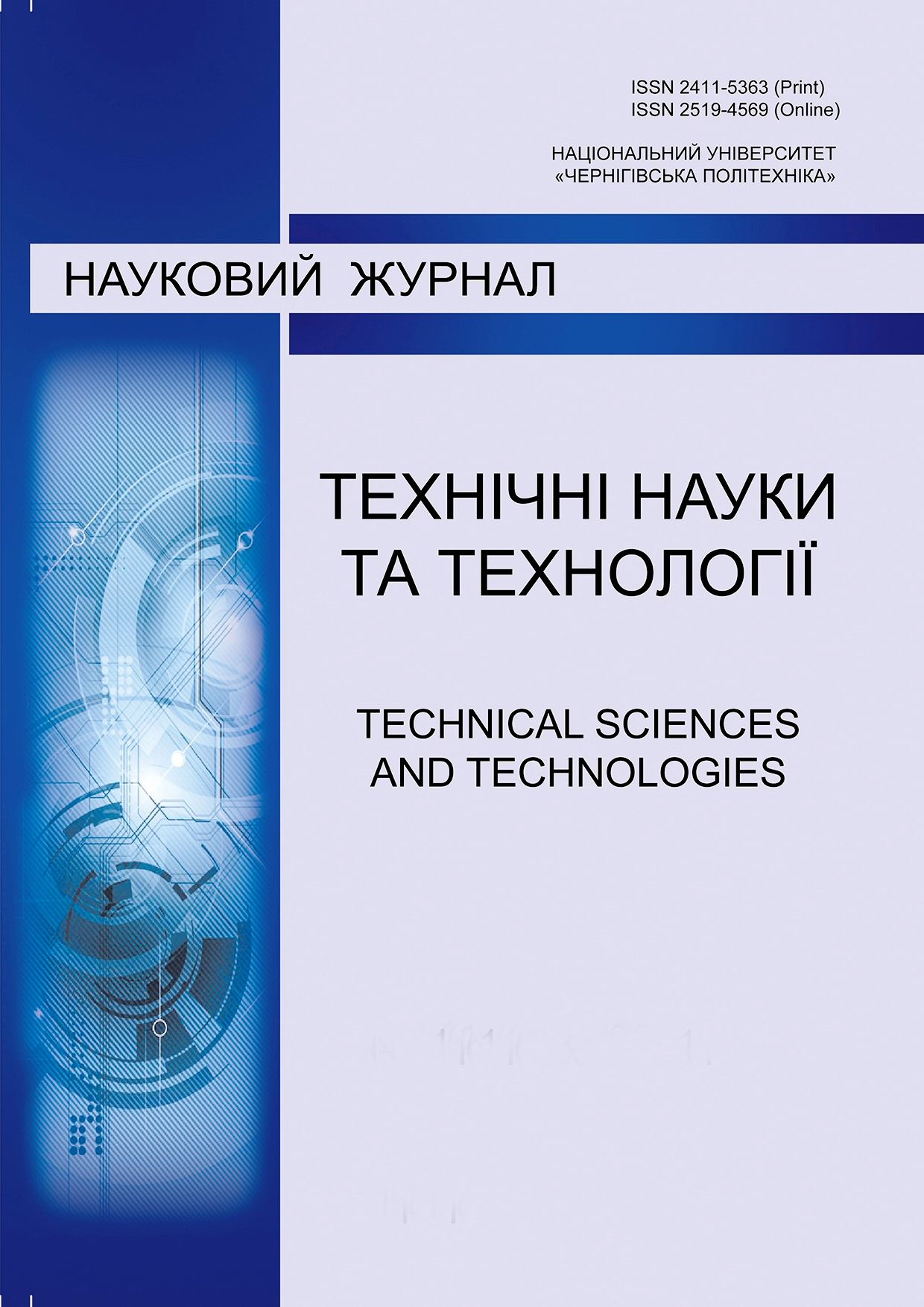 ##submission.downloads##
Як цитувати
Филоненко, С. Ф. (2021). ЭНЕРГЕТИЧЕСКИЕ ПАРАМЕТРЫ АКУСТИЧЕСКОЙ ЭМИССИИ ПРИ ИЗНОСЕ КОМПОЗИЦИОННОГО ИНСТРУМЕНТА С НЕУПРАВЛЯЕМОЙ ГЛУБИНОЙ РЕЗАНИЯ. Технічні науки та технології, (1(7), 24–32. вилучено із http://tst.stu.cn.ua/article/view/104539
Розділ
ІНТЕГРОВАНІ ТЕХНОЛОГІЇ МАШИНОБУДУВАННЯ ТА АВТОТРАНСПОРТУ
Ліцензія
Авторське право (c) 2017 Чернігівський національний технологічний університет, 2015
Ця робота ліцензується відповідно до Creative Commons Attribution-NonCommercial 4.0 International License.